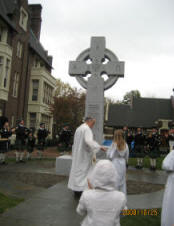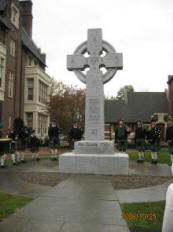 An Gorta Mor
The Ulster County AOH
Feed The Hungry Project
The Ancient Order of Hibernians
Fr Con Colbert Woulfe Division 1 Ulster County
has established a fund
to combat the problems of hunger in Ulster County.
Through the activities of the AOH of Ulster County we have made available this fund and grants will be administered through The Food Bank of the Hudson Valley.
2010-2011
Through the efforts of all of our members once again this year we were able to provide a donation of $10,000.00 to The Food Bank of Ulster County.
Is Cuimhin Linn
We continue our commitment and renew our efforts to remember the victims of the Great Hunger - An Gorta Mor - and to do our best to help Feed the Hungry of Ulster County.
If you would like to participate in our efforts to help feed the hungry of Ulster County please contact us at:
Ulster County AOH, Feed the Hungry Committee
P O Box 2026
Kingston, NY 12402
or you can call us at 845-338-6622
Thank You
2009
The Ulster County Ancient Order of Hibernians is proud to announce a recent donation from "Team Ireland" and the Shamrock Run. This year Team Ireland, who organizes the Shamrock Run on St. Patrick's Parade Day in Kinston, designated the Ulster County Ancient Order of Hibernians Fr. Con Colbert Woulfe Division 1, Hunger Project as the recipient of the annual donation from the run.
The Ulster County Ancient Order of Hibernians, through the Food Bank of Ulster County, will be able to translate this donation to approximately $100,000.00, by using the purchasing power of the Food Bank for the needs of our residents.
KINGSTON TIMES
April 23, 2009
Team Ireland, the committee that organizes the annual Shamrock Run (before Kingston's St. Patrick's Day Parade) donated $10,000, the proceeds from the run, to the Kingston Ancient Order of Hibernians' "Feed the Hungry Project." Proceeds will go directly to registered area food banks.
From left: Dan Chidester (Team Ireland); "Feed the Hungry Project"co-chairman Bud Halligan;
AOH president Jim Carey; Bob Carey; Bob Nanz; Greg Cherny; Greg Riley; Dan Gruner; Dave Shahbazian; Joe Deegan; and Bob Ryan.
Posted below is an application for a grant from the AOH Hunger Project.
If you are a qualified Food Pantry or Soup Kitchen resident in and serving the people of Ulster County, New York, please fill out this form and forward it to the address on the application.
Help us help you.
If you have any questions please contact us through our email address events@ulsteraoh.com
The Ulster County AOH Feed The Hungry Project
APPLICATION
From the "FEED THE HUNGRY" committee:
Today, as we look upon this magnificent Celtic Cross, we reflect upon the horrific events of a century and a half ago. One can only ponder on why those who had the power to remedy the situation chose not to. In fact, not only did they choose not to help, they justified their lack of action as, and I quote, "...as divine intervention to solve a social problem of over-population, by an undesirable race of people". Basically, the Irish were deemed as not important.... if they die, they die.
Now, fast-forward in time approximately 160 years to 2008. Christ told us that we will always have our poor and hungry with us, and, in our case, we don't have to leave Ulster County to find them. They live right here in our communities. We as Hibernians, remembering the plight of our ancestors, should have a special affinity for the hungry...and...As Hibernians, we are privileged to be able to do something about it.
Today, by a unanimous vote at our October meeting, the AOH announces it will donate $10,000 to help alleviate the plight of the hungry in Ulster County. The funds will be deposited with the Food Bank of The Hudson Valley to be drawn upon by eligible Food Pantries and Soup Kitchens across Ulster County. All eligible pantries and kitchens that are associated with the Food Bank will be able to draw against that fund by applying to the AOH by November 21st. Applications are available on the AOH web site, www.ulsteraoh.com. After that date, applicants will be notified how much of the donation will be made available at the Food Bank for their specific use. I would like to note that by dealing through the Food Bank we take advantage of their extraordinary "purchase power" by being able to buy $10 to $12 worth of food and supplies for every dollar we donate. After operating expenses, that translates to $85,000 to $102,000 worth of food and supplies.
We thank God that we are privileged to be able to afford to do this and pray that, all who can, will support their local food pantry and soup kitchen.
Feed The Hungry Committee:
Bud Halligan
Bill Yosh
Bill Kearney
Steve Wood
Kevin Ginty
Bob Ryan