THE 28TH KINGSTON
ST. PATRICK'S PARADE
MARCH 15, 2015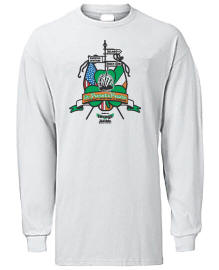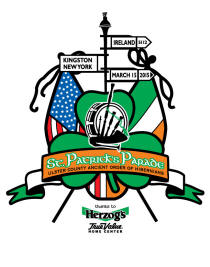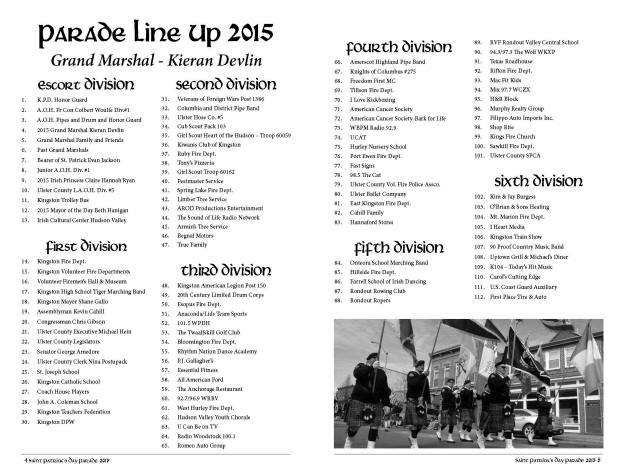 Things are warming up
and the parade is organized


<![if !vml]>

<![endif]>
CONGRATULATIONS
GRAND MARSHAL
2015 ST PATRICK'S PARADE
KIERAN DEVLIN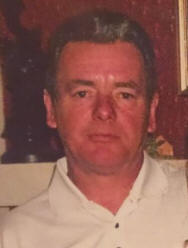 I was born in Belfast Northern Ireland 1 of 7 children, I graduated De La Salle high school in 1976 and went on to a career as a Auto Mechanic. Cut short by economic times, I immigrated to Kingston New York in 1986 with my wife Caroline We will celebrate 35 years of marriage on April 7th of this year. I have two daughters Ciara, 20 and Catherine,18.
I worked for Frank Carey plumbing for a time before I started a career as a Chef and restaurant manager for 17 years. At present I am employed at Ulster County Highways and Bridges for 12 years now as a construction equipment operator.
I have been a member of the AOH since 1988 and a member of the AOH Pipe, Drum and Honor Guard Band since 2002, in my spare time I enjoy The Giants, Cooking and Golf and spending time with my family.


<![if !vml]>
<![endif]>
CONGRATULATIONS
MAYOR OF THE DAY
2015 ST PATRICK'S PARADE
BETH HANIGAN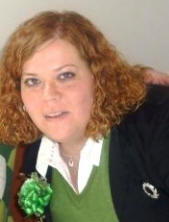 Kingston native, Beth Hanigan is the daughter of Johannah Hanigan and the late Robert W. Hanigan. Beth has one brother, John who resides in Boise, Idaho with his wife Sara and their son Jackson.

Beth is a graduate of John A. Coleman Catholic High School and she obtained her bachelor's degree from Western New England University. Beth is a Claims Examiner for Alliance Member Services which is part of Nonprofits Insurance Alliance Group serving the insurance needs of non profits.

Beth is very active in the community and has served as Sentinel and Recording Secretary for the Ladies Ancient Order of Hibernians. She is the current President-Elect of the Junior League of Kingston and Major Project Chair for Kingston Kinderland II. Beth is also an active member of the Irish Cultural Center.

Beth's Irish roots are traced back on both her mother and father's side. Her maternal grandfather, the late John D. Healey's Grandparents were from Navan, Ireland. On her father's side, the Hanigan family was originally from Dublin.

Beth is honored and thrilled to be named as the 2015 Mayor of the Day and she is looking forward to the ICCHV breaking ground because it will be a great place for our heritage to thrive. Beth's late father, Bob, was very excited about the Irish Cultural Center, as he was planning on participating by helping to coordinate the volunteer labor. Beth has since stayed active in the Irish Cultural Committee to follow her father's footsteps.

<![if !vml]>

<![endif]>
CONGRATULATIONS
IRISH PRINCESS
2015 ST PATRICK'S PARADE
CLAIRE HANNAH RYAN
Claire Hannah Ryan, is a seventh grade Honor Student at J. W. Bailey Middle School. Born on 2/14/2002 she is the daughter of Bill and Barbara Ryan and the granddaughter of the recently departed Gerry Tierney. A parishioner of St. Joseph's Church, she is currently fulfilling her church and community volunteer hours and will be confirmed in September 2016.

Claire is a reading tutor and volunteer at Edson Elementary School. A former Girl Scout, who earned the Bronze Award for her work at the SPCA, and continues to take part in their art program to benefit the shelter. She is looking forward to start volunteering at People's Place and the Forsyth Nature Center. She recently was selected as a leader at her school to be a part of the Anti Bullying Campaign.

Claire is honored to represent the Tierney and Ryan families, as well as the members of the AOH & LAOH as the Irish Princess of 2015
<![if !vml]>
<![endif]>
CONGRATULATIONS
BEARER OF ST. PATRICK
2014 ST PATRICK'S PARADE
EVAN JACKSON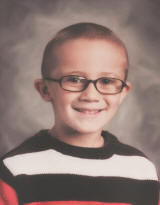 Evan is 6 years old and a 1st grader at Kingston Catholic School. He loves to play basketball and his favorite subject in school is Math.
He is the youngest of 4. His dad, Dave and 2 older brothers Dillon and Jacob are members of the AOH Pipe and Drum Band. His Aunt Rebecca is the president of the LAOH.
Evan has a great sense of humor and a sweet and kind heart. When first asked if he would like to be Bearer of St. Patrick his first question to his mom was "Do I have to wear a bear costume?" His Grandpa, on his mom's side, Larry Dunne was the 2014 Grand Marshal. He will carry St. Patrick with honor and pride, as long as it's not too heavy.

<![if !vml]>
<![endif]>
ST. PATRICK'S PARADE JOURNAL
As you know each year we publish a parade journal to help pay for the parade expenses. Please take an ad and also please sell an ad The St. Patrick's Parade is not free to produce; we need all of the help you can give us.
2015 PARADE ADVERTISING INFORMATION
PARADE REGISTRATION
PLEASE DOWNLOAD THIS REGISTRATION FORM TO REGISTER FOR THE PARADE
2015 PARADE REGISTRATION INFORMATION
PARADE VENDORS
PARADE VENDORS MUST REGISTER IN ORDER TO PARTICIPATE IN THE PARADE
THERE ARE NO VENDOR SPOTS ALLOWED IN THE KINGSTON PLAZA, ALONG THE PARADE ROUTE OR IN THE RONDOUT AREA
2015 VENDOR REGISTRATION FORM
WE ARE ONCE AGAIN ARE JUDGING THE PARADE
AND AWARDING TROPHIES FOR THE FOLLOWING CATEGORIES

Best Band
Best School Unit/Float
Best Decorated Float
Best Decorated Fire Department
Best Original Group
Best Original Irish Spirit


THE SHAMROCK RUN
WILL ONCE AGAIN PRECEDE THE PARADE
WE ARE TRYING TO BREAK THE RECORD
FOR RUNNERS IN A KILT
PLEASE SIGN UP AS SOON AS YOU CAN
There were more than 4,500 Shamrock runners last year !!!!
The 27th Annual Shamrock Run
precedes the Parade
at 12:50PM

The Parade and Shamrock Run are Rain or Shine Events
Please line up for the Run on Albany Avenue
The Run Starts promptly at 12:50 PM
The Parade steps off at 1:00 PM
Be Safe, Be Kind and have a Grand Time
<![if !vml]>
<![endif]>
SHAMROCK RUN 2015
This is the 27th anniversary of the Shamrock Run. The ICCHV is now in charge of the "running" of the Shamrock Run. Team Ireland as a committee of the ICCHV is busy planning the Shamrock Run with assistance from the AOH. The race will lead off the Kingston St. Patrick's Parade, on Sunday March 15th.
The 2 mile Flat, Fast and First Class Run starts at Academy Green, Kingston, 12:50 pm sharp, and finishes at the foot of Broadway
*****

The biggest and best parade in the valley. The Kingston St. Patrick's Parade is co-sponsored by the Ancient Order of Hibernians Fr. Con Colbert Woulfe Division 1 and the Ladies Ancient Order of Hibernians Division 5 of Ulster County in cooperation with the City of Kingston, NY.
The parade steps off from the Kingston Plaza in the historic stockade area of uptown Kingston and continues through the City of Kingston to the Rondout section where the Rondout Creek flows to the beautiful Hudson River.

Please check back for more developments