THE 30TH ANNUAL KINGSTON
ST. PATRICK'S PARADE
MARCH 12, 2017
********************
WHAT A DAY WE HAD!!!
20 DEGREES AND A BREEZE TO KEEP YOU AWAKE!!!
********************
GREAT IRISH SPIRIT
DISPLAYED BY ALL
********************
THANK YOU ONE AND ALL FOR YOUR PARTICIPATION AND SUPPORT
********************
SPECIAL THANKS TO
To our parade
partners and sponsors
We could not produce the parade without the excellent cooperation we receive from the City of Kingston
Mayor Noble
The City Clerk's Office
The DPW
The KPD
The KFD
Parks and Recreation
Citi Bus
The Jordan family
Chic's Restaurant
all the businesses of the Kingston Plaza
We could not stage this parade without their help and patience

The Midtown Businesses and community on Broadway

The Rondout Businesses and community where we end the parade

Thank you to all who took out a Journal Ad
Memorial Listing

Thank you to the parade committee especially co-chairs John Kelly, Larry Dunne and Kathleen Houghtaling

Thank you to the Hooley at the Hall committee for a great party

Thank you to the White Eagle Hall for being perfect hosts for this and all of our events

Thank you to the ICCHV for a great Shamrock Run

Thank you to all of our volunteers who step up every event on the day when needed

And last but not least ---

THANK YOU TO ALL OF OUR DIGNITARIES OF THE
2017 ST. PATRICK'S PARADE
YOU REPRESENTED US WELL
************************
One bit of business left
trophy winners
BEST BAND
AMERSCOT PIPE AND DRUM BAND

BEST SCHOOL UNIT FLOAT
KINGSTON CATHOLIC
BEST DECORATED FLOAT
KINGS FIRE CHURCH
BEST ORIGINAL GROUP
CUB SCOUT PACK 103
BEST ORIGINAL IRISH SPIRIT
ANCHORAGE RESTAURANT & MARINA
BEST DECORATED FIRE DEPARTMENT
ULSTER HOSE
****************************
SEE YOU NEXT YEAR

***************************
STEP OFF 1:00 PM
PRECEDED BY
THE SHAMROCK RUN
"KEEP MOVING FORWARD"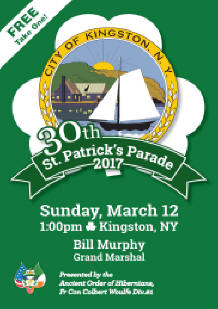 ST. PATRICK'S PARADE JOURNAL
PICK ONE UP AND PATRONIZE THE SPONSORS
THAT MAKE THIS PARADE POSSIBLE
PARADE LINE UP
(SUBJECT TO CHANGE)

ESCORT DIVISION
1. K.P.D. HONOR GUARD

2. Bearer of St. Patrick Thomas Lasecki

3. A.O.H. Pipes, Drums and Honor Guard

4. 2016 Grand Marshal Bill Murphy

5. Grand Marshal Family and Friends

6. A.O.H. Fr. Con Colbert Woulfe Div #1

7. Past Grand Marshals

8. 2016 Irish Princess Mykelty Benson

9. 2016 Mayor of the Day Bill Fitzgerald

10. Ulster County L.A.O.H. Div.#5

11. Kingston Trolley Bus

12. Irish Cultural Center Hudson Valley

FIRST DIVISION
13. Kingston Fire Dept.

14. Kingston Volunteer Fire Dept.

15. Kingston High School Marching Tiger Band

16. Kingston Mayor Steve Noble

17. Kingston Common Council

18. Assemblyman Kevin Cahill

19. Congressman John J. Faso

20. Ulster County Executive Michael Hein

21. Ulster County Clerk Nina Postupack

22. Ulster County Legislators

23. Senator George Amedore

24. Kingston St. Joseph School

25. Kingston Catholic School

26. Coach House Players

27. John A. Coleman High School

28. Ulster County Area Transit

29. Begnal Motors

30. Kingston DPW

SECOND DIVISION
31. V F W Post 1386

32. Amerscot Highland Pipe Band

33. Space Walk of Ulster County

34. Ulster Hose Company #5

35. Cub Scout Pack 103

36. Burgess/Kaznowski Family Car

37. Hillside Fire Dept.

38. Sam's Club

39. Hudson Valley Federal Credit Union

40. The Children's Home of Kingston

41. Cyprus Shriners

42. Ruby Fire Dept.

43. WRWD Radio

44. Girl Scouts Heart of Hudson Kingston Unit

45. The Anchorage Restaurant

46. Empire Athletics Cheer & Dance


THIRD DIVISION
47. Kingston American Legion Post 150

48. 20th Century Limited Drum & Bugle Corp

49. West Hurley Fire Dept.

50. Ulster County SPCA

51. Hudson Valley Youth Choral

52. U Can Be On TV

53. Rifton Fire Dept.

54. The Triangle Inn

55. WDST Radio Woodstock

56. Mountainside Lawn Service

57. A&R Mechanical

58. Kalleco Nursery Corp.

59. East Kingston Fire Dept.

60. Kings Fire Church

61. KISS FM Radio

62. Freedom First MC

63. Port Ewen Fire Dept.

FOURTH DIVISION
Town of Poughkeepsie Police Honor Guard

64. Columbia and District Pipe Band

65. St. Remy Fire Dept.

66. Girl Scout Heart of The Hudson

67. The Twaalfskill Club

68. Original Group; Women Rocking K-Town

69. Saugerties Fire Dept.

70. K104.7/92.9 WBPM Radio

71. Casanova Carriage

72. Kiwanis Club of Kingston

73. Hudson Valley Lodge #432 Sons of Norway

74. Mix 97.7 Radio/101.5 WPDH

75. Sawkill Fire Dept.

76. The Sgt. Shawn M. Farrell

77. Armins Tree Service

78. Mix 97.7/92.7 & 96.9 WRRV

79. Pest Master

FIFTH DIVISION
80. Onteora Marching Band

81. Texas Roadhouse

82. Bloomington Fire Dept.

83. WKIP Radio

84. Kingston Point BMX

85. Limber Tree Service

86. Kingston Nissan

87. Alligerville Fire Dept.

88. Rhythm Nation Dance Academy

89. Carol Cutting Edge

90. Litts Portable Toilets & Septic

91. Michael R. Cahill

92. Kingston Relay For Life

93. Napanoch Fire Dept.

94. Blondies Trolley Diner

95. Filippo Auto Imports Inc.

SIXTH DIVISION
96. Esopus Fire Dept.

97. Ulster Saving Bank

98. McDonalds

99. Puro Clean

100. Farrell School of Irish Dance

101. 2 Old Car Farts

102. Best Western

103. Bodies by Colotti

104. 1916 Societies

105. Q92/Z93 Radio

106. Sons of Norway

107. Christian Bruckholz

108. Tillson Fire Dept.

109. Kingston Train Show

110. Town of Esopus Vol. Ambulance

111. K Hughes Tree Service, LLC

112. The Arc of Ulster-Green

THIS IS A JUDGED PARADE TROPHIES ARE BEING AWARDED FOR THE FOLLOWING CATEGORIES

Best Band
Best School Unit/Float
Best Decorated Float

Best Decorated Fire Department
Best Original Group
Best Original Irish Spirit

congratulations
2017 ST. PATRICK'S PARADE
MARCH 12, 2017
CONGRATULATIONS
TO OUR DIGNATARIES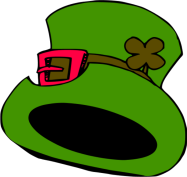 GRAND MARSHAL
2017 ST PATRICK'S PARADE
<![if !vml]>

<![endif]>
BILL MURPHY
William R. Murphy was born in Little Falls N.Y., his family moved to Kingston when he was a toddler. He is the oldest of 7 children. His grandparents, migrated from County Cork, Ireland, however, his dad was born in Little Falls, like himself. Bill had the pleasure and thrill of visiting County Cork, Ireland the birthplace of his ancestors on his 60th birthday. He ate, drank, and sang his way over Ireland's beautiful countryside, he climbed to the top of Blarney Castle to kiss the Blarney Stone, so anyone who knows him, knows he walked away from that memorable trip a" master blarney man"!
Bill attend and graduated from St. Peters School in Kingston, graduated Kingston High School the class of 1962. He went on to learn his trade with the International Brotherhood of Electrical Workers in their 7 year New York State Apprenticeship Training Program, graduating as a journeyman electrician (the starting rate of pay in those days was $1.85 an hour). Bill retired from his trade after 45 years. Serving as general foreman on many noteworthy projects, including Security Systems for the NYC Reservoirs and the Eisenhower Library at West Point.
Married to his wife Mary, for 51years, they were blessed with a son, (David Murphy) and daughter, (Michelle Murphy Constantine), who ultimately gave them three beautiful granddaughters, (Nicole and Megan Murphy and Chloe Constantine). This makes up what they call the "Murphy Clan". The Murphy's have made the Town of Esopus their home for 46 years.
Participating in most sports, throughout his lifetime, Bill enjoys a good round of golf the most. He was an avid baseball player in his youth and is a devoted fan of the NY Giants.
Bill was a member of the local Moose Lodge, as well as the I.B.E.W. Retired, he belongs to the AARP Chapter #2039, the Town of Esopus Seniors, a member of St. Coleman's Parish, and an active member the Ancient Order of Hibernians.
Bill will willingly tell you that one most memorable moments in his life was when Jim Carey, announced that he was selected as the 2017 St. Patrick's Day Parade, Grand Marshal. This is an honor that he will cherish all the days of his life.
MAYOR OF THE DAY
2017 ST PATRICK'S PARADE
<![if !vml]>
<![endif]>
BILL FITZGERALD
Bill Fitzgerald and is married to Hannelore Osterwald Fitzgerald 55 years. He has 4 sons Michael, John, Aaron, and Sean and 10 grandchildren.
Bill's parents were both born in New York, NY. His paternal and maternal Grandmothers were both born in Ireland. Bill graduated from Redemptorist Seminary, North East PA, and attended SUNY New Paltz Business Management and Accounting
Bill was active US Air Force from 1957 to 1961 in the USA, Europe and Tripoli, Libya. He was active Air Force Reserve from 1961 to 1965 Stewart AFB, Newburgh NY
Bill has been a member of the Connelly Fire Department for 60 years and a Fire Commissioner for 8 years. He was employed at Hercules Inc. Port Ewen NY as Development Lab Technician, Atlas Chemical Industries Valley Forge PA as Product Engineer, Colt Firearms Atglen, PA as Sales Engineer, Caldor Kingston NY, AT&T Basking Ridge NJ as Corporate Finance Manager and Business Process Designer.
Bill retired from Avaya Communication (AT&T Spin-off) in 2001.
Bill presently works as a Real Estate Broker for Mary A. Bono Real Estate and has been there since 2003. Bill has been a member of the Presentation Parish Port Ewen since 1938 and currently serves as a Lector, Commentator, Eucharistic Minister, and Altar Server
Bill has been a member of AOH since 2008 and is an active member of the Irish Cultural Center. Hudson Valley.
<![if !vml]>

<![endif]>
IRISH PRINCESS
2017 ST PATRICK'S PARADE
<![if !vml]>
<![endif]>
MYKELTY BENSON
Fifteen-year-old Mykelty Elizabeth Benson is a sophomore at Ellenville High School. An honor student, she enjoys participating in band with her flute, and singing in both Women's and Festival choirs. She is a confirmed member of St. Mary's and St Andrew's Parish in Ellenville where she is an altar server.
Mykelty has been a part of the AOH Pipe band since she was about 5 years old. She carried the parade banner with her sister for years until she decided that she would like to play the bagpipes. Although bagpiping did not work out, she is extremely excited and honored to have been chosen Irish Princess for 2017 and hopes she can fill her position in such a way as to make everyone proud. Mykelty is looking forward to an exciting year.
BEARER OF ST. PATRICK
2016 ST PATRICK'S PARADE
<![if !vml]>
<![endif]>
THOMAS LASECKI
Thomas Lasecki is excited to be honored as the Bearer of Saint Patrick for the 2017 AOH Saint Patrick's Day Parade. He joined the Junior Ancient Order of Hibernians in the Spring of 2016, and celebrates his Irish heritage following in the footsteps of his Grandfather Thomas Kelly and Uncle John Kelly who are members of the AOH, as well as his Grandmother Kathy Kelly and Aunt Pat Schiskie who are members of the LAOH. As a fourth grader at Kingston Catholic School, Thomas excels academically while participating in many extracurricular activities including musical theater. He is a cub scout with the Webelos Pack 4 of the Rip Van Winkle Council and an altar server at the Presentation of the Blessed Virgin Mary Church. In his spare time, Thomas loves to play all sports including Cal Ripken Baseball, PEAA Soccer, CYO Basketball, golfing with the CYO "Hook a Kid on Golf Program", or running in the Kingston Cross Country Summer Series organized by the Irish Cultural Center of the Hudson Valley in conjunction with Ulster County CYO. Thomas is the 10-year-old son of Dan and Bridget Lasecki and is a loving older brother to Anna Mae.

HAPPY ST. PATRICK'S DAY
Lá Fhéile Pádraig Sona Duit

PLEASE REMEMBER
March 17, 2017
Ceremonies for the
MAYOR OF THE DAY
9:00 AM MASS-ST. MARY'S CHURCH-KINGSTON, NY
10:00 AM MAYOR OF THE DAY CEREMONY--KINGSTON CITY HALL
12:00
MAYOR OF THE DAY--LUNCHEON
Bill Fitzgerald, our Mayor of the Day
will be honored at a luncheon

Little Italy, 14 Thomas St, Kingston, NY 12401
The lunch will be held on March 17th at 12:00 PM
TEE SHIRTS WILL BE AVAILABLE
COME AND GET YOUR LIMITED EDITION PARADE SHIRT
This year we have had to restrict the walking of dogs and animals in the Shamrock Run and the St Patrick's Parade.
It is a liability issue with our insurance carrier. We have had incidents in the past.
We have some floats that are having dogs on their floats and they are restricted to the float and not walking.
Thank you for your understanding and we hope to see you at the parade.
IF YOU WANT TO MARCH IN THE PARADE
OR
TAKE AN AD IN THE PARADE JOURNAL
Please download and complete
the FORMS
PLEASE MAIL COMPLETED FORMS TO
THE PARADE, P.O. BOX 2788,
KINGSTON, NY 12402


**************************************************************
2017 PARADE INFORMATION
TAKE AN AD IN THE PARADE JOURNAL
Please download and complete
the FORMS below
PLEASE MAIL COMPLETED FORMS TO
THE PARADE, P.O. BOX 2788,
KINGSTON, NY 12402
Parade Journal Advertising Form

PARADE VENDORS
PARADE VENDORS MUST REGISTER IN ORDER TO PARTICIPATE IN THE PARADE
THERE ARE NO VENDOR SPOTS ALLOWED IN THE KINGSTON PLAZA, ALONG THE PARADE ROUTE OR IN THE RONDOUT AREA

2017 VENDOR REGISTRATION FORM
*************************************************************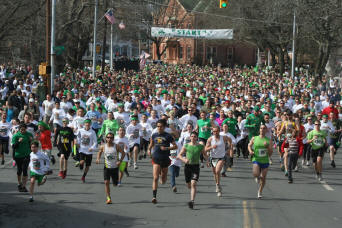 THE SHAMROCK RUN
WILL ONCE AGAIN PRECEDE THE PARADE
WE ARE TRYING TO BREAK THE RECORD
FOR RUNNERS IN A KILT
PLEASE SIGN UP AS SOON AS YOU CAN
There were more than 4,500 Shamrock runners last year !!!!
The 29th Annual Shamrock Run
precedes the Parade
at 12:50PM

The Parade and Shamrock Run are Rain or Shine Events
Please line up for the Run on Albany Avenue
The Run Starts promptly at 12:50 PM
The Parade steps off at 1:00 PM
Be Safe, Be Kind and have a Grand Time
SHAMROCK RUN 2017
This is the 29th anniversary of the Shamrock Run. The ICCHV is now in charge of the "running" of the Shamrock Run.
Team Ireland as a committee of the ICCHV is busy planning the Shamrock Run with assistance from the AOH.
The race will lead off the Kingston St. Patrick's Parade, on Sunday March 12th.
The 2 mile Flat, Fast and First Class Run starts at Academy Green, Kingston, 12:50 pm sharp, and finishes at the foot of Broadway
*****

The biggest and best parade in the valley. The Kingston St. Patrick's Parade is co-sponsored by the Ancient Order of Hibernians Fr. Con Colbert Woulfe Division 1 and the Ladies Ancient Order of Hibernians Division 5 of Ulster County in cooperation with the City of Kingston, NY.
The parade steps off from the Kingston Plaza in the historic stockade area of uptown Kingston and continues through the City of Kingston to the Rondout section where the Rondout Creek flows to the beautiful Hudson River.

Please check back for more developments