REMEMBER OUR NEXT PARADE IS
THE 29TH FOR KINGSTON
ST. PATRICK'S PARADE
MARCH 13, 2016
<![if !vml]>
<![endif]>
ST. PATRICK'S PARADE JOURNAL
As you know each year we publish a parade journal to help pay for the parade expenses. Please take an ad and also please sell an ad The St. Patrick's Parade is not free to produce; we need all of the help you can give us.
2016 PARADE ADVERTISING INFORMATION
IF YOU WANT TO MARCH IN THE PARADE
OR
TAKE AN AD IN THE PARADE JOURNAL
Please download and complete
the FORMS below
PLEASE MAIL COMPLETED FORMS TO
THE PARADE, P.O. BOX 2788,
KINGSTON, NY 12402
Parade Journal
Advertising Form
PARADE VENDORS
PARADE VENDORS MUST REGISTER IN ORDER TO PARTICIPATE IN THE PARADE
THERE ARE NO VENDOR SPOTS ALLOWED IN THE KINGSTON PLAZA, ALONG THE PARADE ROUTE OR IN THE RONDOUT AREA

2016 VENDOR REGISTRATION FORM
WE ARE ONCE AGAIN ARE JUDGING THE PARADE
AND AWARDING TROPHIES FOR THE FOLLOWING CATEGORIES

Best Band
Best School Unit/Float
Best Decorated Float
Best Decorated Fire Department
Best Original Group
Best Original Irish Spirit

STAY TUNED FOR THE ANNOUNCEMENT OF OUR
<![if !vml]>
<![endif]>
GRAND MARSHAL
2016 ST PATRICK'S PARADE
<![if !vml]>

<![endif]>
MAYOR OF THE DAY
2016 ST PATRICK'S PARADE

<![if !vml]>
<![endif]>
IRISH PRINCESS
2016 ST PATRICK'S PARADE
<![if !vml]>
<![endif]>
BEARER OF ST. PATRICK
2016 ST PATRICK'S PARADE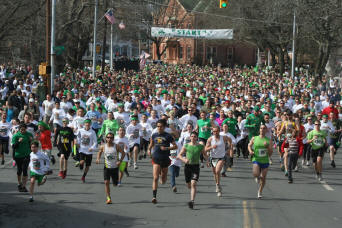 THE SHAMROCK RUN
WILL ONCE AGAIN PRECEDE THE PARADE
WE ARE TRYING TO BREAK THE RECORD
FOR RUNNERS IN A KILT
PLEASE SIGN UP AS SOON AS YOU CAN
There were more than 4,500 Shamrock runners last year !!!!
The 28th Annual Shamrock Run
precedes the Parade
at 12:50PM

The Parade and Shamrock Run are Rain or Shine Events
Please line up for the Run on Albany Avenue
The Run Starts promptly at 12:50 PM
The Parade steps off at 1:00 PM
Be Safe, Be Kind and have a Grand Time
<![if !vml]>
<![endif]>
SHAMROCK RUN 2016
This is the 28th anniversary of the Shamrock Run. The ICCHV is now in charge of the "running" of the Shamrock Run. Team Ireland as a committee of the ICCHV is busy planning the Shamrock Run with assistance from the AOH. The race will lead off the Kingston St. Patrick's Parade, on Sunday March 13th.
The 2 mile Flat, Fast and First Class Run starts at Academy Green, Kingston, 12:50 pm sharp, and finishes at the foot of Broadway
*****

The biggest and best parade in the valley. The Kingston St. Patrick's Parade is co-sponsored by the Ancient Order of Hibernians Fr. Con Colbert Woulfe Division 1 and the Ladies Ancient Order of Hibernians Division 5 of Ulster County in cooperation with the City of Kingston, NY.
The parade steps off from the Kingston Plaza in the historic stockade area of uptown Kingston and continues through the City of Kingston to the Rondout section where the Rondout Creek flows to the beautiful Hudson River.

Please check back for more developments