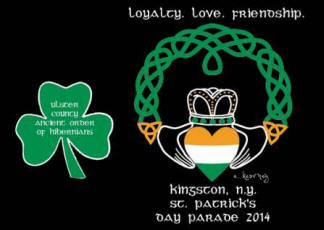 ST. PATRICK'S PARADE
KINGSTON, NY
MARCH 16, 2014

What a Grand Day We Had.. Perfect for the Irish
The sun was out in force and there was not a cloud in the sky
God truly blessed us for sure

The CRAIC in fact was 190
Thank You for Making this the Best Parade in the Valley
Thank You for Your Participation
and for Putting Your Rosaries on the Clothes Line for the Great Weather!!!

Thank you for Being Safe and Respectful!!!

Here Are Our Winners of the Parade Trophies
Please pick up your trophies at Arace Electric, Broadway, Kingston, NY

Best Band
Hudson Valley Regional Police Pipes & Drums

Best School Unit/Float
Kingston Catholic School

Best Decorated Float
Anchorage

Best Original Group
Rondout Valley Teachers Federation

Best Original Irish Spirit
Rhythm Nation Dance Academy


SHAMROCK RUN
There were more than 4,500 Shamrock runners !!!!
AND THE WINNERS ARE
The official list of 2014 Shamrock Run finishers are as follows:
MEN'S DIVISION
FIRST PLACE
Jayson Hines
SECOND PLACE
Steve Gilfeather
THIRD PLACE
Ben Carter
WOMEN'S DIVISION
FIRST PLACE
Shannon Avrill
SECOND PLACE
Ali Bartolotta
THIRD PLACE
Erin Koonz

SCHOOL DIVISION
First Place
Edson Elementary
Second Place
Miller Middle School
Two Round Trip Tickets to Ireland
Jim Williams
Highland, NY

Congratulations to everyone who came out to participate in this year's Shamrock Run. It was a great turnout once again! Whether you ran to win or walked with friends and family, it was a beautiful day to get out and enjoy the sights and sounds of historic Kingston.
Stay tuned to the ICCHV Facebook page for information about our upcoming Summer Series Cross Country race events!
The St. Patrick's Parade is not free to produce
We have received great support from our community and the businesses that have stepped up and contributed to the success of the 27th St. Patrick's Parade in Kingston.
We could not produce the parade without the excellent cooperation we receive from
The City of Kingston, Mayor Gallo, The City Clerk's Office, The DPW, The KPD, The KFD, Parks and Recreation and Citi Bus.

We also thank:
The Jordan family and all the businesses of the Kingston Plaza. We could not stage this parade without their help and patience.

The Midtown Businesses and Community on Broadway

And

The Rondout Businesses and Community where we end the Parade.

Thank you one and all.

March 14, 2014
CONGRATULATIONS TO ALL OF OUR DIGNITARIES OF THE
2014 ST. PATRICK'S PARADE
<![if !vml]>

<![endif]>
CONGRATULATIONS
GRAND MARSHAL
2014 ST PATRICK'S PARADE
LARRY DUNNE
<![if !vml]>
<![endif]>
Lawrence J. Dunne, the humble man in the background that still believes in doing business with a hand shake, has been an active member of the Fr. Con Colbert Woulfe, Ulster County Ancient Order of Hibernians Division 1 for over a decade. Most notable he has served as Co-Chair for the Annual St. Patrick's Day Parade and has been in the AOH Pipe and Drum Band Honor Guard and a dedicated volunteer for the Hooley on the Hudson™ since they were both formed.
Larry, a local business owner and operator of AFCO Fuel, is recognized by many as the Irishman with the braid and a beret. He has a soft heart for people, especially those in need. He never thought he'd have the honor of being asked to be Grand Marshall and in his modesty, feels that there are others that have contributed and deserve the recognition more than him. Never the man to step up and take a bow, he's stated that he accepted the honor of Grand Marshal for his children and grandchildren.
He's been blessed with 4 beautiful children – Jason, Rebecca, Jennifer and Kristin. Larry proudly put his children through Kingston Catholic and Coleman High School, a true testament to his belief in his Catholic faith and values. Rebecca has recently been elected as the President of the LAOH. Larry's 7 grandchildren – Skylar Elizabeth (age 11), Zachary (age 10), Dillon (age 9), Jacob (age 8), Isabelle (age 7), Violet (age 6) and Evan (age 5) are thrilled for "Pop-Pop." Larry's proud to say that the 5 grandchildren that live in the area attend Kingston Catholic, carrying on the family tradition. He proudly recognizes that each of his children and grandchildren are unique and special, making him pleased to have shared his Irish culture and influence with his family. His sisters, Kathy, Patricia and June, along with his mother, Dora, share in this celebration of their Irish heritage!
Although humble, those that know Larry can attest, he is strong in conviction and ethics. He is also a true believer in the mission and vision of the AOH organization and all it represents, from traditional origins to future obligations. He proudly accepts the honor of being awarded Grand Marshal for the 2014 St. Patrick's Day Parade and thanks those that support the goals of the AOH, as defined in the National AOH Constitution. Sainte!
<![if !vml]>

<![endif]>
CONGRATULATIONS
CO-MAYORS OF
THE DAY
2014 ST PATRICK'S PARADE
PATTY BOYLE JACOB
<![if !vml]>
<![endif]>
Patricia Jacob is the current Past President of the LAOH, Ulster Division 5. She and her husband Jerry, a Pennsylvania boy, have been married for nearly 27 years. They have a son, Kevin, who is currently a senior at The College of St. Rose.
Patty, a Kingston native, is the daughter of Jack and Mary Boyle. She is the third of five children, or the middle child, which her brothers and sisters agree explains a lot about her! Patty has two sisters, Mary and Barbara and two brothers, John and Joe. They have blessed her with11 nieces and nephews, two great nephews and a grand niece that will be arriving this May. "My husband, my son, my whole family is very important to me", says Patty. "Family comes first."
For the past 21 years Patty has been a teacher for the Kingston Consolidated School District. She has taught almost exclusively at the Robert Graves Elementary School in Port Ewen where she is currently a 4th grade teacher.
Patty was first introduced to the LAOH as a child by her grandmother Helen Boyle. Helen was a longstanding member of the LOAH until her death in 1991. "I was very close to my grandmother and I remember her speaking about her LAOH sisters like Gert Whalen and Winnie Brady. They came to her wake as a group and did a service for her. This really impressed me and I knew that I wanted to be a part of that special group myself one day. I joined the LAOH to honor my grandmother and I think that she would be quite pleased with the honor that is being bestowed upon me.", says Patty.
Patty has been a member of the LAOH for a number of years. Since joining in 2005 she has held the office of Vice-President in 2009 and the office of President from 2010-2013. "Kathleen Houghtaling was the President when I was Vice President. She was and continues to be a wonderful mentor and a dear friend." says Patty. "The LAOH is more than just an organization that meets monthly." says Patty. "These women become your "sisters" in a very real sense. We take our motto of Friendship, Unity and Christian Charity very seriously. We watch out for each other, pray for each other and support each other. One of my favorite activities is visiting our home-bound members during the holidays. We bring plants to members for Christmas and St. Patrick's Day. The other officers, Jeanine Steuding, Mary Kate Mathews and Grace Rodriquez have been so wonderful to work with. I can't imagine sharing this honor with anyone other than Grace. She is more than just my right hand. She is more like the other half of me. The more organized, easier to reach half!"
In addition to her LAOH activities Mrs. Jacob is a Religious Education teacher as well as a Lector and Eucharistic Minister for St. Mary's Church in Kingston. She has participated in fundraising walks for Multiple Sclerosis and various organizations fighting cancer. Breast Cancer awareness is of particular importance to her as her mother is a Breast Cancer survivor.
In her spare time, which her friends and family say does not exist, she enjoys working out, reading and doing craft work. The things she enjoys the most would be spending time with family and friends and just celebrating being together and enjoying life!

<![if !vml]>
<![endif]>
CONGRATULATIONS
CO-MAYORS OF
THE DAY
2014 ST PATRICK'S PARADE
GRACE KELLY RODRIGUEZ
<![if !vml]>
<![endif]>
On September 3rd, 1959, the youngest of seven was born to Thomas and Dorothy Kelly. Grace Lynn Kelly was the baby of this large and loving family, following Patricia, Margaret, Thomas, Mary, James, and John. Born and raised in Kingston, Grace attended Brigham Elementary, Miller Middle School, and then graduated from Kingston High School, as did her six older brothers and sisters. Grace went on to work at Metropolitan in Kingston, which is where she met many of the friends she has today.
About 25 years ago on May 7th, 1988 Grace married her soul mate Nestor "Huggy" Rodriguez, who is retired from the NYS Police. They have two wonderful children who are their pride and joy; a daughter Keli, who is a scientist currently living in Raleigh, North Carolina. And a son Tynan, who is currently attending college in New York to follow in his father's footsteps and join the police force. Family has always been Grace's main value and driving force in life, which is what led her to become involved in her community and join the LAOH.
Grace became a member of the LAOH in 2007 and has been the Vice President for the last four years. She joined the LAOH because she is proud of her Irish heritage, to honor her late mother and father, and because she saw how involved her big brother John was in the AOH (he was the Grand Marshal in 2012). Besides all the events and activities that she is involved in with the LAOH Grace also coordinates and volunteers at the Catholic Charities Food Pantry of Kingston, along with her brother Tom who is the Director of Catholic Charities. She has also chaired many committees for the Cancer Relay for Life held at Dietz Stadium, just to name a few. She currently works at Hudson Valley Foot Associates as a receptionist.
Grace has the kindest heart and loves helping her community, friends, and family. She sets a great example for everyone, especially her large, ever growing family known to most people as "The Kelly Clan". All of her friends, fellow LAOH members, and entire family are very proud of her and all of her accomplishments; adding Co-Mayor of the Day for 2014 to the list. Life wouldn't be the same without Grace "Kelly" Rodriguez being a part of it. Congratulations our little "Amazing Grace"! We love you and are so very proud- Your loving family.
<![if !vml]>
<![endif]>
CONGRATULATIONS
IRISH PRINCESS
2014 ST PATRICK'S PARADE
MEGHAN GAVIS
<![if !vml]>
<![endif]>
Meghan is 13 years old and an 8th grader at Miller Middle School. She loves to play lacrosse and basketball. Meghan is the President of the National Junior Honor Society at Miller. She also plays the flute. She enjoys acting and has had lead roles in the Miller School productions. Meghan has an identical twin Grace. She is the daughter of Bill and Patty Gavis and the granddaughter of Pat and John Netter and Rose and the late William Gavis

<![if !vml]>
<![endif]>
CONGRATULATIONS
BEARER OF ST. PATRICK
2014 ST PATRICK'S PARADE
JARED KINNIN
<![if !vml]>
<![endif]>
I am Jared Kinnin, a sophomore student at John A. Coleman High School and a member of the Junior Ancient Order of Hibernians. As a member of J.A.O.H, I have served in the position of Secretary, Vice President and, currently the President. This year, in the 2014 Saint Patrick's Day Parade, I am the Bearer of Saint Patrick. An incredible honor!
My family's Irish heritage through my mother's side, the Matthews family, is well-known in the Kingston Community. I often listen to the stories from years ago about their history including where my red hair comes from, my Grandfather Donald "Red" J. Matthews Sr. And, of course, my father's side the Kinnin family, from upstate New York, Washington County and from County Armagh in Ireland.
My diversified interests have led me to the position of "Statistician" for the Boys Basketball Team, Center Fielder and Pitcher for J.V. Baseball, and Varsity Cross Country at John A. Coleman Catholic High School. Currently, I am beginning my research to prepare for the United States Coast Guard Academy. Since I was eleven years old, it has been my dream to enter the United States Coast Guard Academy to study government and law. The USCG will give me the opportunity to serve our country and be connected to the sea. Later in life I want to be a Lawyer specializing in maritime law. Global and local events continue to spark my interest in the world of journalism and travel. I use many media sources to obtain news, like reading the New York Times online. My family and I have traveled to many countries, which has given me the opportunity to learn about different cultures and customs, including my Irish Heritage. I will continue to be involved with community events through J.A.O.H and Coleman High School.
<![if !vml]>
<![endif]>
ST. PATRICK'S PARADE JOURNAL
As you know each year we publish a parade journal to help pay for the parade expenses. Please take an ad and also please sell an ad. The St. Patrick's Parade is not free to produce; we need all of the help you can give us.
Parade/St. Patrick's Parade 2014/2014 AOH Parade letter White advertising.pdf



<![if !vml]>
<![endif]>
SHAMROCK RUN 2014
This is the 26th anniversary of the Shamrock Run. The ICCHV is now in charge of the "running" of the Shamrock Run. Team Ireland as a committee of the ICCHV is busy planning the Shamrock Run with assistance from the AOH. The race will lead off the Kingston St. Patrick's Parade, on Sunday March 16th. The 2 mile Flat, Fast and First Class Run starts at Academy Green, Kingston, 12:50 pm sharp, and finishes at the foot of Broadway

ONCE AGAIN WE WILL BE LOOKING FOR THE COMMUNITIES SUPPORT IN HELPING TO PRODUCE THE BEST PARADE IN THE VALLEY
IF YOU ARE A STREET VENDOR YOU NEED TO REGISTER WITH THE AOH AND PAY YOUR PERMIT AND CITY FEE
YOU NEED TO COMPLETE THE FORM BELOW
Parade/St. Patrick's Parade 2014/2014 Parade Vendor Form on Letterhead 2 pages 1-7-14.pdf
FORMS MUST BE RECEIVED BY FEBRUARY 21, 2014
PARADE REGISTRATION FORMS

IF YOU WANT TO MARCH IN THE PARADE OR TAKE AN AD IN THE PARADE JOURNAL
Please download and complete
the FORMS below
PLEASE MAIL COMPLETED FORMS TO
THE PARADE, P.O. BOX 2788,
KINGSTON, NY 12402
Parade/St. Patrick's Parade 2014/2014 AOH Parade Letter Blue Welcoming.pdf

Parade/St. Patrick's Parade 2014/2014 AOH Parade letter White advertising.pdf

Parade/St. Patrick's Parade 2014/2014 AOH Parade letter Gold registration.pdf

Parade/St. Patrick's Parade 2014/2014 AOH Parade letter Green Rules and Regulations.pdf

Parade/St. Patrick's Parade 2014/2014 AOH Parade letter vehicle limit.pdf


*******
THIS IS A JUDGED PARADE
Trophies will be given in 5 categories,
once again this year.
Any questions please call 845-338-6622
<![if !vml]>
<![endif]>
Best Band
Best School Float
Best Decorated Float
Best Original Group
Best Irish Spirit

*******
The 26th Annual Shamrock Run precedes the Parade
at 12:50PM

The Parade and Shamrock Run are Rain or Shine Events
Please line up for the Run on Albany Avenue
The Run Starts promptly at 12:50 PM
The Parade steps off at 1:00 PM
Be Safe, Be Kind and have a Grand Time
*****

The biggest and best parade in the valley. The Kingston St. Patrick's Parade is co-sponsored by the Ancient Order of Hibernians Fr. Con Colbert Woulfe Division 1 and the Ladies Ancient Order of Hibernians Division 5 of Ulster County in cooperation with the City of Kingston, NY.
The parade steps off from the Kingston Plaza in the historic stockade area of uptown Kingston and continues through the City of Kingston to the Rondout section where the Rondout Creek flows to the beautiful Hudson River.

Please check back for more developments