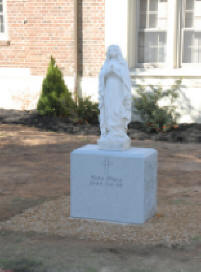 Is Cuimhin Linn!! (We Remember)

St Mary's Church
11:00 AM Mass

The rededication of the An Gorta Mor Cross was October 24, 2009. Steve Lowry presented a talk about the cross. A 11:00 AM Mass at St. Mary's Church followed by Brunch at The Anchorage
Remember… there are still spaces on the cross for families to place their names or memorials to their families. We do have some to place on the Cross but we need a minimum number in order to have the stone cutter come down and do the work.
Contact the Ulster County AOH PO Box 2026, Kingston, NY 12402, if you know of someone who is interested for the details.

In addition, you should drive by the Cross after sundown. The Hibernians Div 1 planted and installed lights on the Broadway side of the Cross. At one point during the installation, Big Bob Carey remarked we had 3 electricians working in concert to make sure everything was wired correctly. Thanks to Bob Carey, Jim Carey Jr. Jim Hargrove, Andrew Castle, Roddy Carey, Bill Glennon, Bill Kearney and Pres. Jim Carey for the hard work.

The Cross and Memorial to the Great Hunger has been placed at St Mary's Church and was dedicated following a Mass concelebrated by Fr. Edmund Burke and Fr. Charles Coen. It was a soft day as they say in the old country the rain held off until after the Mass, Dedication and March down Broadway for a celebratory gathering at brunch.
The money we have raised has established a fund to feed those of us less fortunate in Ulster County. Please visit the An Gorta Mor Feed The Hungry Project page for more details.
This monument to the Irish of Ulster County in the form of a Celtic Cross is a memorial to all of our ancestors who came to this country for a better life and also to those who died during the Great Hunger. The Cross will continue to remind us that though the poor and hungry will always be with us we can help those less fortunate than us everyday.
Here are some pictures as the Cross is being fashioned.